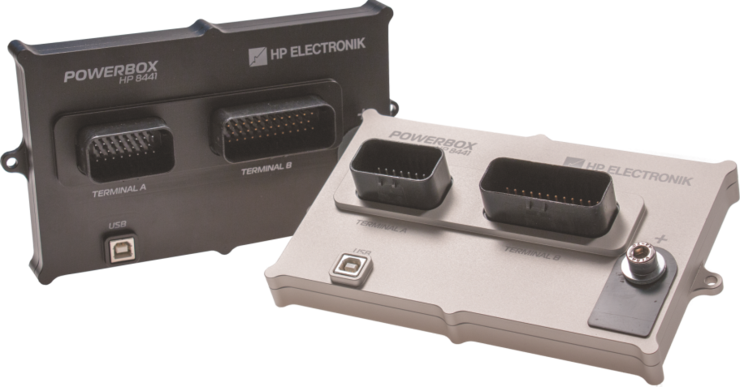 New from HP Electronik, the makers of the original Powerbox power distribution module, is the HP8441. With all of the configurability of it's bigger brother, the HP8441 uses a more cost effective AMPSEAL connector instead of the pricey Autosports found on the HP8440.
The HP8441 is an innovative, intelligent and programmable solid state module that replaces relays and circuit breakers, simplies wiring harnesses and provides diagnostic capabilities.
The Powerbox is ultra-compact (210 x 120 x 22 mm including the AMPSEAL Automotive connectors) and lightweight (only 496 grams) but powerful (max. 180 Ampere continuous current draw), providing an effective and inspired alternative to conventional relays, circuit breakers, fuses and wires that can so often be a tangle of complexity and untidiness around a typical racing car's power junction box. The PCM has 18 high power channel each allowing a maximum peak current in excess of 45 amps and individual adjustable peak current time of up to 10 seconds.
The Powerbox can exchange data with other modules in the car primarily via CAN. It can be controlled entirely by 32 individually congurable CAN channels (bit, byte or word (Intel or Motorola format) or by combining CAN and an additional 11 conventional input switches.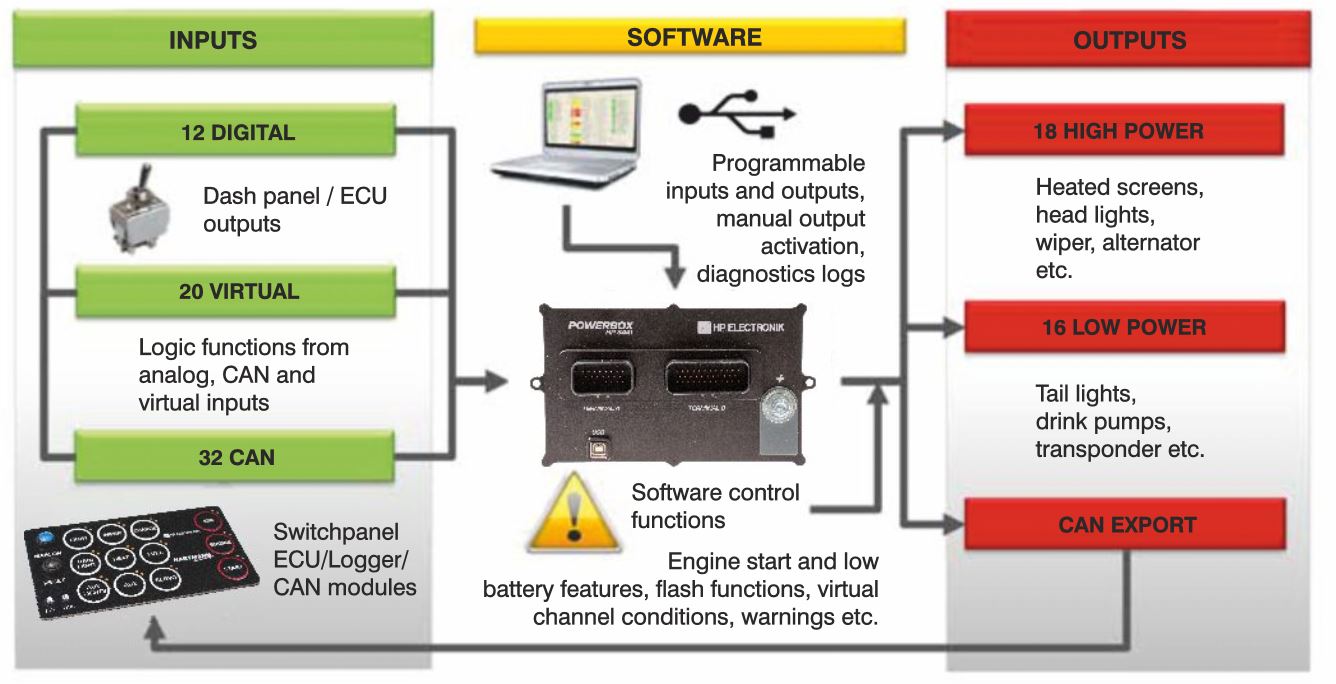 Its CAN communication is highly user-dened, allowing an optimum integration with other modules in the car - for example the engine management system, switch panels, CAN expansion modules, dashboard (to display error messages and status) and data logging system. CAN identiers can be selected freely both for importing data and for exporting PCM channels and switch status.
Logic conditions can be created using 20 virtual input channels. The channels combine switching conditions dened by up to 3 of the PCM's entire channels plus other virtual channels. Any combination of conventional inputs, CAN channels or outputs can be used to create logic links.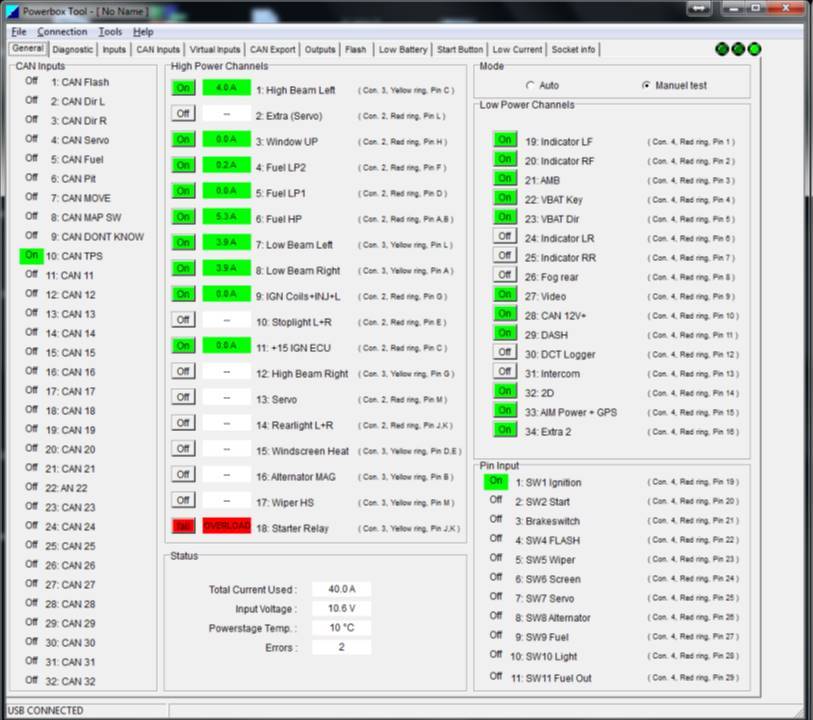 The software is designed to be both easy to use and straight forward to congure. Each of the 11 sections has been carefully constructed to give the user clear and easy to edit information. The PCM's general status is displayed as soon as a connection is established. Tracing eventual electrical errors is very easy and is also supported by a separate diagnostic section.
Check out our entire range of Power Distribution Products
HP8441 Powerbox Power Distribution Module
Dimensions:
20.00cm x 10.00cm x 8.00cm
Price:

$2,700.00


Ex Tax:
$2,454.55
Powerbox is a powerunit that makes fuses and relays unnessasary in your car.
The Powerbox replaces conventional fuses and relais, instead all power is controlled by this device.
Just type in the "fuse" size on each channel, link the input to an output function and you are ready to go.
The Box has a userfreindly CAN interface, this makes it possible to link to other devices such as ECU, Switch Panel, Dash board, this feature makes the outputs to be operated automaticly example - when you crank the engine the fuelpumpe starts, when engine is running the powersteering starts automaticly.
CAN Values and status of channels can also be sendt out on the CAN system, this could be for logging purpose or for switching on Led's on the switchpanel, sending messages to the Dash ect.
The Powerbox has also some flash functions, making external relais for indicator unnessasary.
THe HP8441 is the same as the excisting HP8440 the change is thats it´s with AMP AMPseal Connectors, the Maximum current of these connectors is rated to 17A per Pin, we have 5 double pinned channels meaning you can load 34A - I practical we have tested the load to be as high as 35A per pin without problem.
We have made 2 more fratures in HP8441 sompared with HP8440 it´s the following:
Output 6 & 14 has a wiper parking function, this means that the motor wil be grounded on these pins when both of them are not actice, resulting the Wipermotor to break.
We have made a Ignition Input, and a fused 0.5A output, Is´s then possible to put the HP8441 on Sleep mode with a Current
consumption of only some few Micro Ampere.
Software for PC and Firmware is the same as HP8840 only the connecots are the big difference.
Also keep in mind - our software is free - download it, get our own configuration files and try to understand this fantastic unit. If you need help or have questions Please contact us.
Your success is our success.
Kind regards
Hans Hartmann Petersen
CEO - HP ELECTRONIK
"the man behind the Powerbox"
Maximum 180 Ampere continuous
34 individually programmable output channels.
Wiper parking feature
Ignition Input for sleep mode
Operated by 11 conventional, 32 CAN channels and by 20 virtual channels, controlling each of the 34 output channels individually.
Any combination of input and output channels can be selected
Easy creation of logic switching using virtual input channels
Dedicated diagnostics section
Automatic shut-down of selectable output channels at low battery voltage threshold
CAN switching can be controlled by switch panels, engine management system, data logger unit, etc
5 programmable overriding ash functions
Programmable "Low Battery" power conservation setting
Engine Start strategy ensures maximum cranking speed
All inputs, outputs and functions can be named individually
Channel status, current draw and real time diagnostics exported via CAN
Channel setup by PC software and USB link
Diagnostic status displays open circuit, short circuit or overload
Our Controllers have been sold to many different clients here is some examples:
- Le Mans LMP1 (Audi), R12, R15, R18
- ALMS winning Porsche RS Spyder's
- Ferrari 458 Gt2
- Pagani Zonda R
- WTCC, Honda Accord S2000
- Rally Cross Cars
- Marklund Motorsport VW Polo
- Bombardier Train
- More than 10000 units in service
- Scania Door Controllers for Busses
Technical Manual
2014 Ver4.0
Pinout V0.5
Pin Configuration explaining the pinout of the box
USB Pinout
Explains the USB connection to your laptop
HP9642 Membrane Switch Panel
Dimensions:
10.00cm x 10.00cm x 5.00cm
Price:

$1,430.00


Ex Tax:
$1,300.00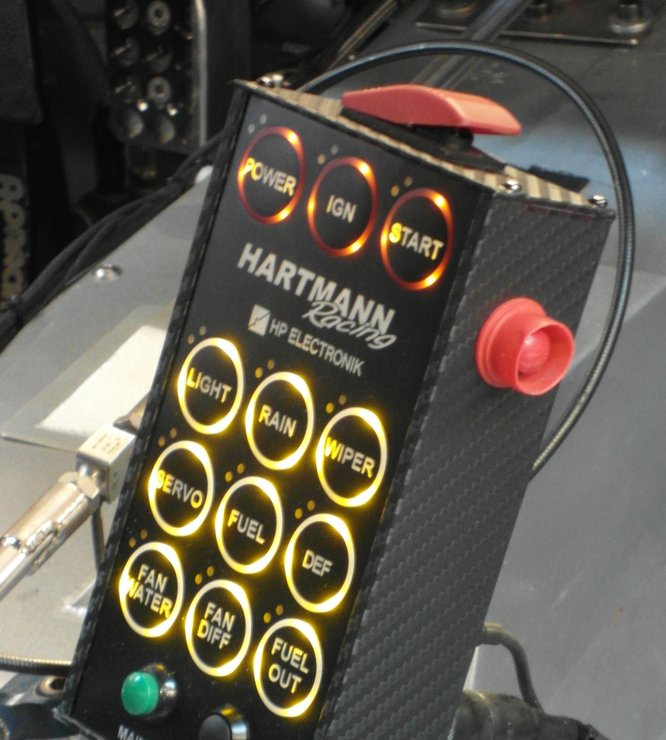 The panel is equipped with 12 buttons, each button has two functions - Momentary and Toggle. - NEW! Now you have also a possibility to make 2 stages on your output, first push A next B third off, or/and A, A+B and off. Also we are now supporting Can speed 500Kbit and 1Mbit - Please see Technical Manual V.2 -
The CAN setting in the powerbox decides the function, this means you don't need to program the panel, its simply sents out the messages on the CAN, you decide in the powerbox which function you needs.
The panel is also equipped with 12 Green " on" Led's and 12 Red "Failure Led's, indicating
an on function or/and a channel failure.
Also a backlight is mounted, all buttons are then illuminated.
The Layout of the panel is open for your own layout sugestion, the text and logo is engraveable, included in the price, also there is space for drilling in special switches (on the top)
Please note, the panel can be mounted "opposite" or Horisontal.
The size of the panel is 100mm x 183mm - only 11mm deep.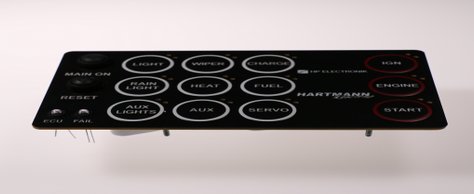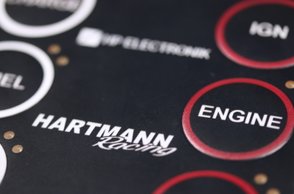 Dimensions 100(w)X183(h)X11(d)mm
Number of keys 15, all programmable
Default CAN ID
Setup 0X450
Keys 0X451
Key Sequence 0X452
LED (Green) 0X454
LED (Red) 0X455