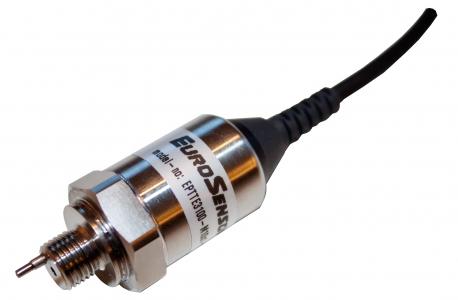 Variohm EuroSensor has launched a compact sensor for the simultaneous measurement of gas and liquid pressure up to 25 bar and temperatures up to 150°C. Space-saving and cost-effective, two important measurements can now be monitored using a single port.
With no silicon oil, the new EPTTE3100 combined sensor features a well proven thin-film strain gauge pressure measuring cell for safe and reliable operation whilst the PT1000 platinum resistance element provides linear temperature measurement with proven reliability and long term stability.
The new sensor is fully sealed to IP67 and is housed in a high strength stainless steel for maximum durability. With a 22 mm diameter and overall length around 60 mm, the sensor's compact dimensions are complemented with a choice of industry standard M10 or 1/8" NPT pressure port interfaces and a 600 mm sheathed electrical connection cable for ease of installation. Nine pressure measuring ranges between 0.6 and 25 bar are available with a ratiometric output signal of 0.5... 4.5 V, whilst temperature measurement is from -50 to +150°C with Class B accuracy.
With an operating temperature range of -20 to +125 ° C, very low electrical noise emissions and high resilience to shock and vibration, the sensor will suit demanding applications throughout motorsports as well as medical and industrial equipment such as autoclaves and steam sterilizers.
By eliminating the separate need for a temperature sensor and its mounting, the combined sensor is attractive not only for reasons of weight and space saving, but it also scores highly with a particularly favourable overall price for both measured values. Customised interfacing, range and other modifications are available for series production.
Variohm EuroSensor provides complete sales and application support across a comprehensive range of position, load, force and temperature sensor technologies - for demanding measurement applications across motorsports, industry, construction, agriculture, research and more.