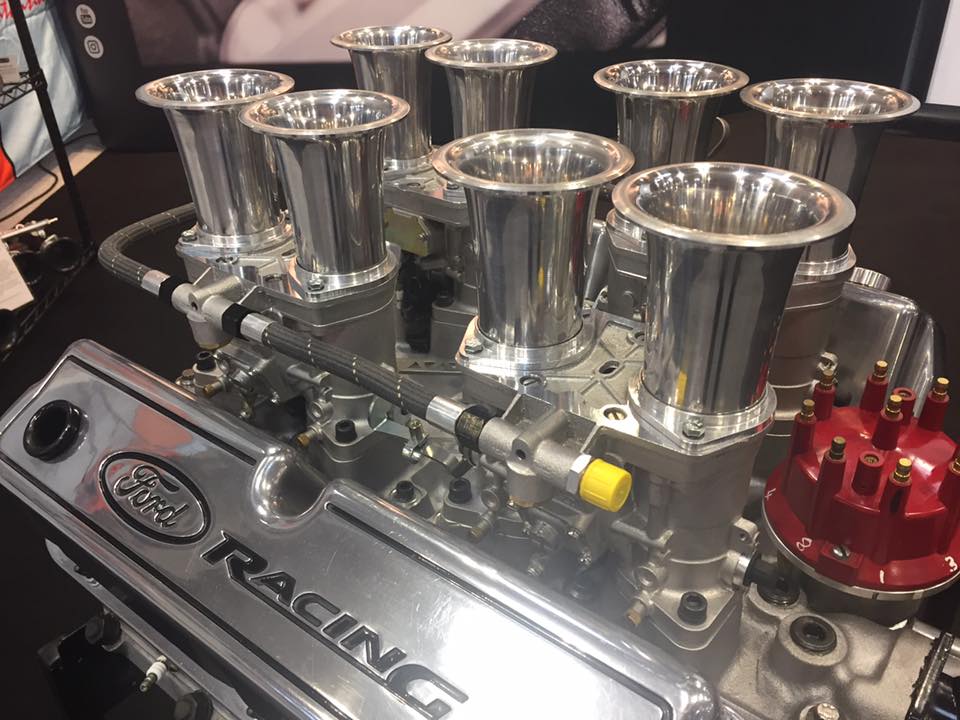 The Ford 302 small block, or Windsor, is used in everything from kits cars to street rods. One of the most iconic looks of all for this engine is the quad IDF intake with eight alloy bell mouths as found fitted to GT40's, AC Cobras and many road racing cars of the era.
Our new EFI Retrofit kit combines classic looks with real modern performance. No more leaky float bowls or dodgy cold starting and a better power spread than any comparable intake setup around.
The Components
Jenvey Heritage IDF Throttle Bodies
New for 2020, is the Jenvey TDF series of throttle bodies based on the IDF downdraft. Following on from the remarkable success of the TD Heritage DCOE style EFI throttle bodies. the TDF opens a new chapter in EFI retrofit systems with integral Bosch EV14 injectors and a high reliability, non-contact throttle position sensor mounted internally.
Externally, they are identical dimensionally to an IDF carb, so existing carburettor installations can be easily converted with a minimum of parts.
Option Jenvey TF IDF style Throttle Bodies
These are the tried and true Jenvey throttle bodies with external fuel rails. These are also available in throttle bores up to 50mm in TF type throttle bodies. These do not come with a throttle position sensor, nor injectors like the Heritage ones.
Extra parts needed
Engine Management System
At the heart of this is the Motec M1 engine control unit. With eight injector and ignition drivers, dual lambda control and advanced VE based fuel mapping, these are the best performing ECU on the market and represent great value for money. You even get 250mb of data logging memory (about 30 hours worht depending on configuration) and traction control for those that don't want to scuff up their tyres.
Ignition System
For most street applications, the Holley/MSD dual sync distributor does the job and gives both a crank and cam position signal for sequential operation. It's also the most period looking igntion system as most multiple/static coil setups tend to look quite out of place in older engine bays.
For extra high performance, we can also do a crank trigger arrangement with multiple static coils.
Fuel Supply
We rcommend the newer style FP200 Bosch Motorsport fuel pump (BOS0580464200) with a Bosch 3 bar fuel pressure regulator (BOS0280160575) and housing (RH01)
Sensors
This doesn't require a great deal of sensors for a good quality result. The main sensors you require are
Manifold Pressure Sensor (Magneti Marelli PRT03) - This picks up the manifold vacuum signal from our vacuum distribution kit. It allows foir small variances in engine load to be accounted for and makes for a much better driving road car.
Coolant Temp Sensor (Compsystems 60-001A). Measures engine temp and allows for fuelling adjustments during the warm up phase.
Air Temp Sensor (Compsystems 60-002A). This is a fast reaction, open element type that allows for corrections to engine mapping due to air temp changes.