The latest from Jenvey backed up with baddest EVO ecu out there. Combining razor sharp ITB response and the control power of the Emtron KV8, this package is for people who are serious about their EVO.
Jenvey EVO Turbo ITB Kit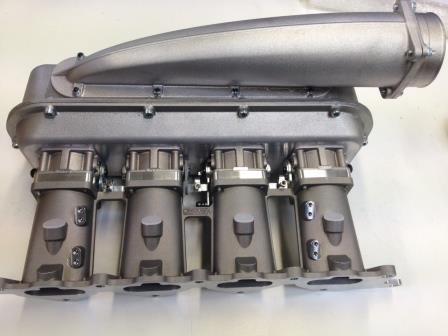 A new development of our existing single throttle kit is this new one with four SFS 48mm throttle bodies for increased throttle response. The Jenvey turbo plenum has already outperformed existing "log" type intake manifolds with it's superior intake diffuser system and tapered internal bell mouths, making as much as 80HP more than a leading aftermarket competitor.
The myths regarding ITB's and turbocharged engines cover the internet with comments like "they're impossible to tune", "it's not worth the money" or "Nissan tried it on the RB and it doesn't work". But having tuned ITB turbo engines over the years, including a coupel of Formula 1 enignes, I can tell you that a properly designed individual throttle body system is hard to beat next to a traditional setup on the track. More power for less boost, vastly improved throttle response and big mid range torque gains can all be expected.
Replacing the one big throttle body of the original kit provides awesome throttle response times with much improved top end power, unlike traditional manifolds which tend to taper off badly up high and still manage to suffer from noticeable turbo lag. The gain comes from keeping the larger volume of the plenum pressurised at all times, while the throttle bodies downstream control the intake. When you pick the throttle up again coming off a corner, the turbo only has to repressurise a much smaller volume of the intake runners downstream of the butterflies.
Figure 1 - Difference in time taken to attain target boost pressure after throttle closure
Another key feature of the Jenvey plenum is the diffuser assembly which evenly distributes airflow, even at high demand/high boost periods.
The manifold can also be ordered with one or two banks of injectors and accepts all 14mm or ing injector types, allowing for a much wider variety to be used.
Ordering Details
Emtron KV8

As used by many top rally and World Time Atttack competitors, the KV8 combines top end hardware with flexible software and all the features included in one price. No activation codes, no options, just one very capable engine control unit. The adaptability of the Emtron software is attracting many serious competitors who are demanding more features for increasingly complex powertrains.
The KV8 can run two banks of injectors as well as DBW, advanced traction control, anti-lag and comes with 64mb of onboard data logging memory.
This EVO kit come swith an adaptor interface so that no rewiring is necessary, enabling seamless integration with your existing car. Of course, Competition Systems can also design and build complete Pro spec wiring harnesses if you are doing a complete ground up project including data logging, GPS, Racekeeper video logging and our HP Power Control Module with membrane touch panel control.
Ordering Details
Compsystems Engine Harness Adaptor