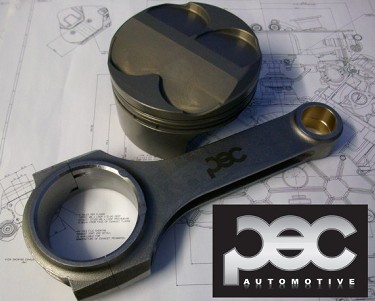 Performance Engine Components (PEC) have grown into one of Europe's leading engine components suppliers. We thought it would be a good idea to explain the story of where they came from and where they're going.
PEC started life as an idea in 2008 between two friends (Dave and Rob) who noticed a growing gap in the market for aftermarket automotive component supply. Historically up until this point, engine builders had to source components from a number of suppliers resulting in multiple shipping charges, production delays and because no one company was offering a matched product to suit another company's, there was never a guarantee of fitment. All too often Rod small end sizes had to be changed to suit pistons or piston crowns machined to suit longer rods etc etc.
By starting PEC, Dave & Rob had launched the UK's first company concerned solely with performance orientated engine internals. By using a multitude of contacts cultivated over the years, a short list of component suppliers was put together and PEC was born.
The first thing to "fix" was the supply of connecting rods. Existing suppliers were often unwilling to be flexible enough to meet changing demands and so something had to be done. Using our own in house computer aided design studio, PEC began designing its own range of connecting rods in large enough numbers to keep manufacturing costs sensible while not sacrificing quality.
PEC's first big break came in 2009 when PEC was appointed the UK dealer for Wossner forged pistons. Through negotiation with the previous distributors and Wossner, PEC agreed to honour all of the previous customer agreements and part numbers and keep the supply of Wossner pistons into the UK relevant and at the forefront of development of the UK tuning industry.
By working directly together, both companies have benefitted from each other's experience in component design and market trends.
With a growing range of piston and connecting rods in stock, it was time to look at what else was needed, the answer... Head gaskets. In 2011, PEC began working with Athena, an Italian company which at the time was developing a range of (then) new Multi Layered Steel Automotive head gaskets. By joining forces, PEC helped guide Athena into the manufacture of new designs which met demand in the European industry perfectly.
In 2013 the PEC catalogue expanded again! US based Supertech performance started supplying PEC with not only their fantastic range of valves, but also by partnering with PEC to produce a range of pistons for European & Japanese engines from PEC drawings which are based on PEC's collective years of experience within the aftermarket.
PEC's Future...
Looking back over the years and adding up all of the sales, it's amazing to think that over 7000 engines have been assembled worldwide using at least one product supplied, that's an average of at least 3 per day every day for 6 years! And while a lot of them have been conventional 4cyl mass produced engines, there are always a few exceptions from the daily norm for us... Amongst those years are projects for 1930's Aston Martins, Citroen 2CV's (a racing version!), Lancia 037 Group B rally cars, Triumph Dolomites, Bristols, Drift cars, Drag cars, Rally cars.... all sorts really and who knows what the future will truly hold?
As far as the aftermarket is concerned, the next generation of direct injection performance engines are now starting to prove popular. Tightening emissions and fuel regulations while still meeting customer demands for performance, has opened up a whole new chapter in performance tuning and we here at PEC.. are looking forward to it!