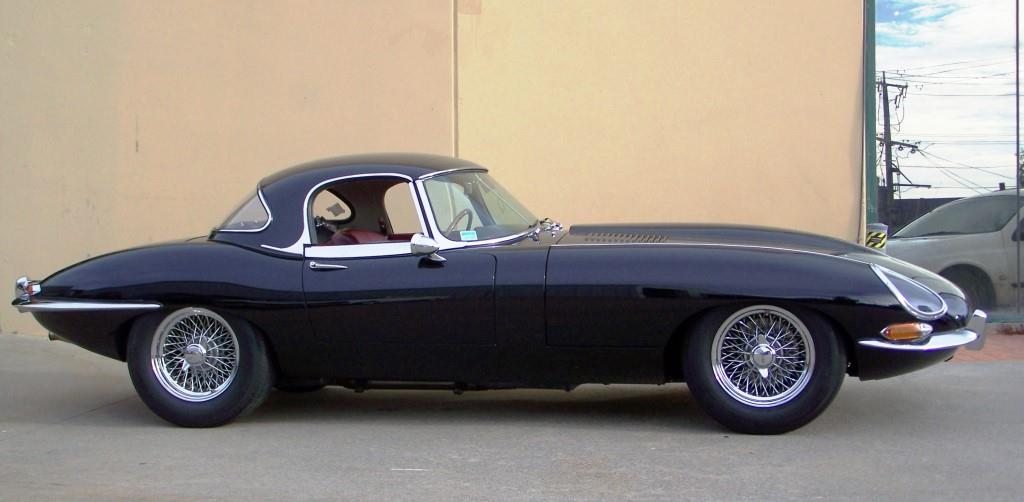 This magnificent black Jaguar E-Type had laready been converted to EFI many years ago with some quality gear. But the owner wanted a more authientc look, so a Heritage conversion was called for.
I've always had a soft spot for E-Types. The really defined the look of the long bonnet British roadster and actually drive pretty well for a car that's half a century old. This one is a later 4.2L that had been converted to EFI some years ago. The original install was quite good with a Motec M8 ECU and the wiring hadn't even degraded that much, only needing some detailed tidying up.It generally drove quite nicely and seemd to have all of that great smooth torque that Jag sixes are reknowned for.
The problem for the owner was mostly aesthetic. When you lifted the bonnet it didn't look so 1960's anymore. The EFI conversion was looking a little worse for wear, especially the fibreglass airbox that had degraded drastically over time. The injectors were old green top EV1 Bosch injectors and the distributor was thankfully a custom EFI job, very similar to our own Classic Throttle distributor design.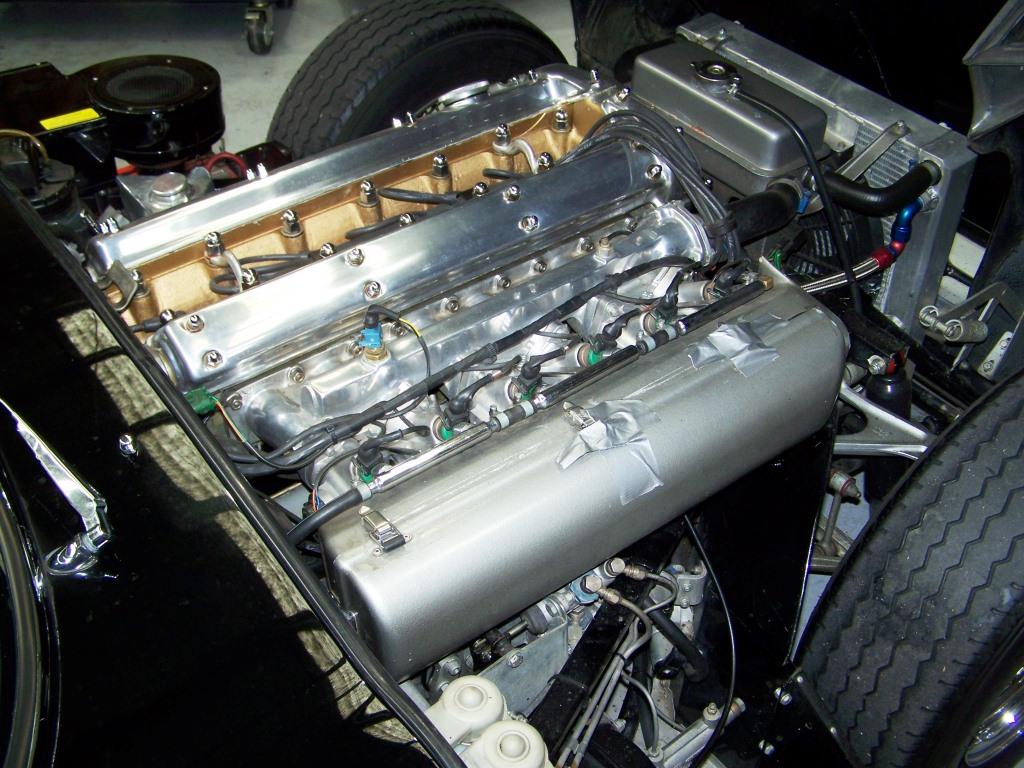 The existing EFI system complete with duct tape holding the airbox togethor.
The answer was a triple set of 45mm Heritage throttle bodies from Jenvey. Complete with Bosch EV14 injectors and a non-contact throttle position sensor mounted integrally in the central throttle body, there wasn't much else to do except for the wiring tidy up and some fuel plumbing. We had warned the owner that there probably wasn't going to be much of an increase in performance but we could promise it would look a lot more authentic. We were wrong on the first count and right on the second.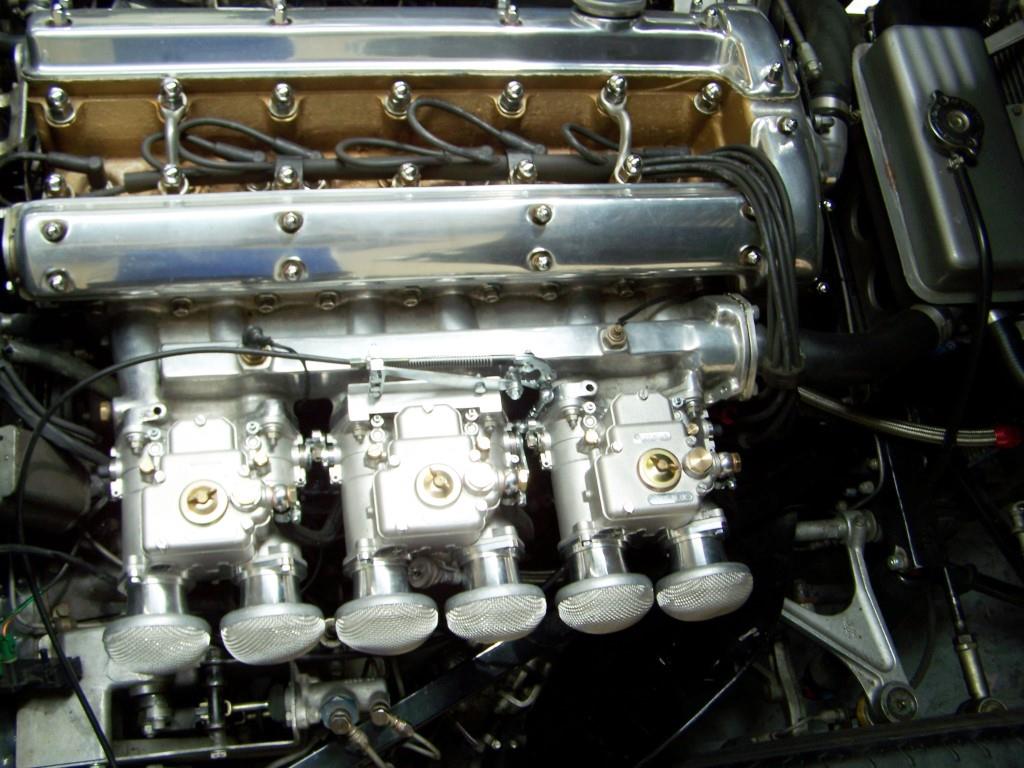 Triple TD45 Heritage throttle bodies with mesh style air filters for extra authenticity
The installation was typically easy as it always is with Jenvey products. The bolt and port alignment were spot on with no brackets fouling anywhere. The linkage was a bit of a hea scratcher at first as the E-Type bonnet is notoriously low and the Heritage linkage kit sat too high. We ended up using a CLS2-TB01 kit which is normally what we'd use on the normal TB/TH series DCOE throttles. We also machined anew fuel distributor block so we could use the side entry fuel fittings in the traditional manner.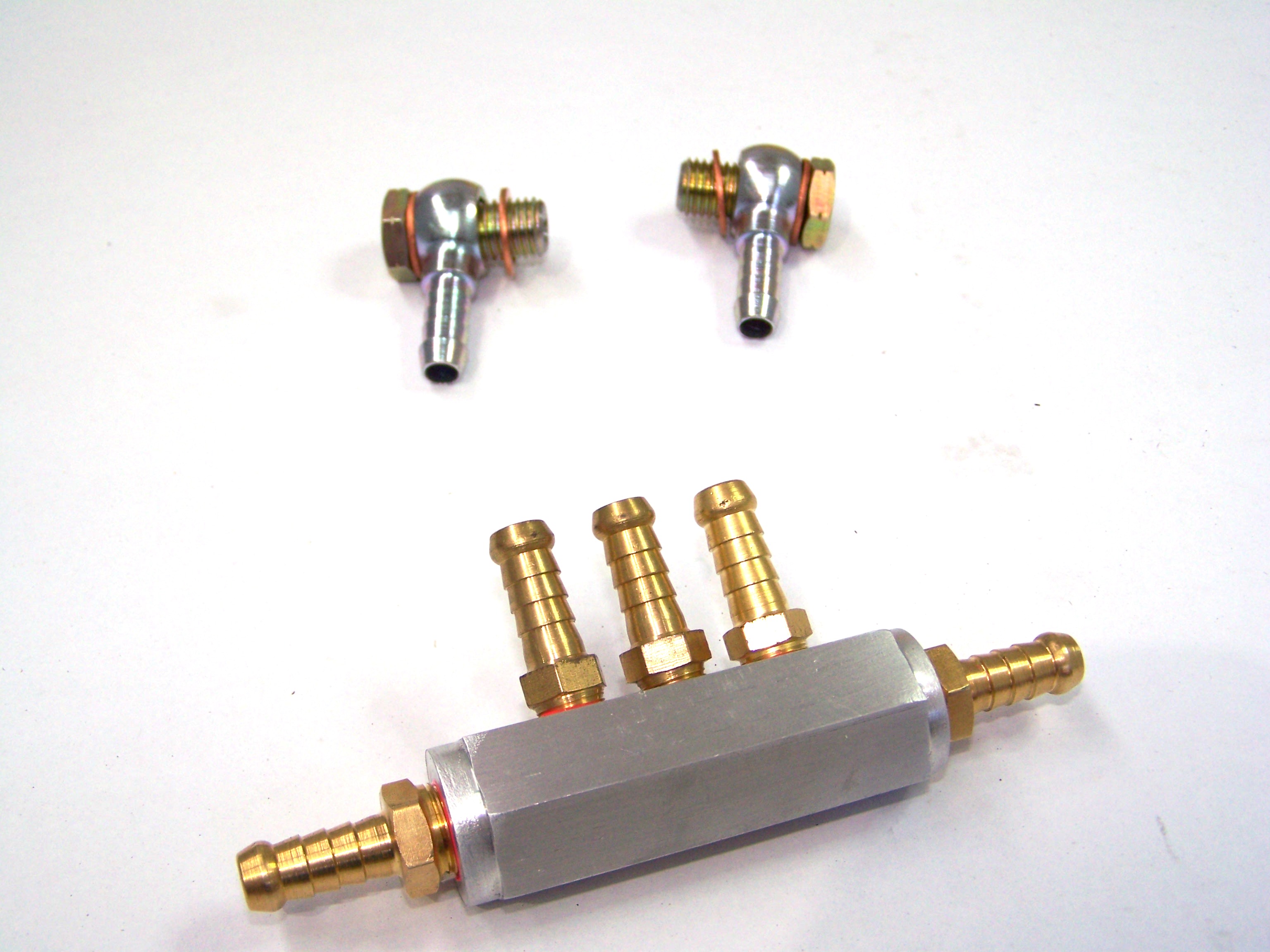 Fuel distributor block with TBR41 side entry fittings
Even I was shocked at the increase in mid range torque and the extra power up top was an even bigger surprise. The mid range boost I could write off to a much improved Bosch EV14 and it's better spray pattern but the extra 50HP at the top? And the final dyno run in the graph below included the air filters. The difference was less than 2HP between having them or not having them mounted.
The road manners were even better with excellent starting and driving characteristics, including a cold start at the top of Mt Buller on a minus something degree morning.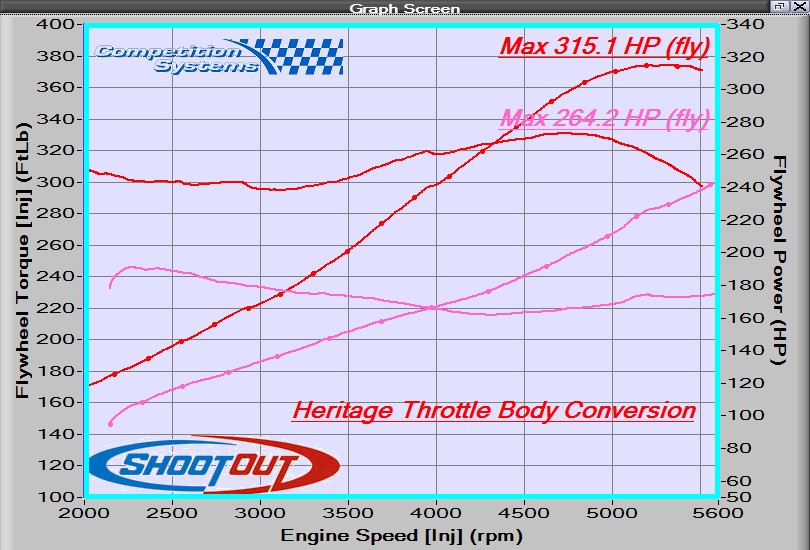 Ordering Details
Jaguar XK 6 Heritage Throttle Body Kit
Product Code: CKJR05TD

Availability: 2 - 3 Days

Weight: 10.00kg

Dimensions: 60.00cm x 30.00cm x 40.00cm
Price: $6,975.00
Ex Tax: $6,340.91
The Jenvey Jaguar straight 6 manifold has been designed to suit both the series 1 3.8L & 4.2L engines and the series 2 4.2L engine.

The Water manifold suits the series 1 4.2L thermostat housing and thermostat, and includes a heater outlet.

The TD and TH kit include manifold, throttle bodies, fuel rail, air horns and linkages.

This manifold has been designed to suit our DCOE Heritage and standard throttle bodies.

The manifold includes underneath take off for ECU water temp, dashboard water temp & spare undrilled water feature boss.

The throttle body kit includes manifold and water pipe, throttle bodies, linkages, air horns and fuel rails.
Emtron SL6 Motorsport ECU
Product Code: EMSL6

Availability: 2 - 3 Days

Weight: 0.50kg

Dimensions: 25.00cm x 20.00cm x 5.00cm
Price: $2,585.00
Ex Tax: $2,350.00
Emtron's SL6 is a wire in ECU with extreme flexibility. This ECU will support up to 6 Channels of fully sequential Fuel and Ignition. Every unit is housed in a durable billet Aluminium enclosure and includes 32MB permanent memory for on-board logging, 4-channel oscilloscope function, DBW control, Knock control up to 2 channels using digital filter technology, high speed Ethernet communications and 3-axis G-force sensing to name a few.
Power Supply
Operating Voltage: 6.0 to 22.0 Volts DC (ECU shutdowns at 24.0V)
Operating Current: 290mA at 14.0V (excluding sensor and load currents)
Reverse Battery Protection via External Fuse
"Smart" battery transient protection
Operating Temperature
Max operating range: -30 to 110°C (-22 to 230°F)
Recommended operating range: -30 to 85°C (-22 to 185°F)
Physical
Aluminium 6061 grade CNC billet enclosure
Enclosure size 120 mm x 130 mm x 27 mm
Weight: 470g
Connector system: 68-way Super Seal waterproof connectors with gold plated contacts
Pin diameter: 1 mm
Current rating: maximum 15A per pin (wire gauge dependant)
Internal
Dual 100MHz processors
500Mb DDR RAM (0.5Gb)
32MB ECU logging memory. Over 1200 channels available, 1Hz to 500Hz logging rate
Oscilloscope 4-channel function with 32MB storage

Sampling at 100k samples/second
Includes Crank Index and Sync sensor inputs
Includes Digital Inputs 1-4

On-Board barometric pressure sensor. Range 40 – 115.0 kPa
3-Axis accelerometer. 16-Bit resolution, +2g/+4g/+8g dynamically selectable full-scale
6x Port Injector Outputs—high ohm
70V clamping
Outputs can be used for ground switching, 6A Continuous, 10A Limit
All outputs are short circuit and over current protected
No Flywheel diodes (external diode(s) required for VVT control)
6x Ignition Outputs
Adjustable TTL Ignition drive current (35mA or 70mA)
Outputs can be used for ground switching, 1A Continuous, 3A Limit
All outputs are short circuit and over current protected
No Flywheel diodes (external diode(s) required for VVT control)
10x Auxiliary Outputs
Variable Valve Timing (VVT) and Variable Valve Timing Electric (VTiE), Drive by Wire (DBW), dual boost control, gearshift solenoids, stepper motor and many more.
All outputs have PWM control, maximum frequency = 15 kHz
Flywheel diodes integrated into all outputs
All outputs are short circuit and over current protected.
Low Side Driver Auxiliary 1-4: 4A continuous, 6A peak modulated, 8A limit
Low Side Driver Auxiliary 5-8: 2.5A continuous, 4A peak modulated, 5A limit
High Side Driver Auxiliary 1-8: High Side 4A continuous, 9A limit
Half Bridge Driver Auxiliary 9-10: 5A continuous and 8A limit. Can be used as Low Side, High Side or together in H-bridge configuration for DC motor control (DBW)
1x EFI Relay Output
Low Side Driver for relay control. Current limited to 200mA (Output will switch ON when Ignition Switch Input (B4) is greater than 4V)
1x Shield Output
Connection for Trigger and Knock shielded cables. Short to battery protection
10x Analog Voltage/Temperature Inputs
Fully configurable including custom calibrations
Switchable 1k ohm pull-up resistors on ANV 7-10 for temperature inputs (available on 4 channels)
Accepts a 0.0 – 5.0V analog input. Resolution is 1.22mV (12-Bit)
6x Digital/Speed Inputs/Switched Inputs
Frequency range from 0.0Hz up the 30.0kHz on all 8 channels
Magnetic and Hall effect sensor compatible on DI 1-4 with programable trigger edge(s)
Hall effect sensor only on DI 5-8 with programable trigger edge(s)
Independent programable frequency-based arming threshold control, range 0.0 – 12.0V on DI 1-4
Fixed frequency-based arming thresholds on DI 5-8. Rising = 1.2V, Falling = 1.0V.
Wheel speed, output shaft speed and other frequency-based signals
VVT position(s) up to 4 channels available on DI 1- 4.
ON/OFF switched inputs: AC request, Launch enable, cruise switch, table control switching etc with arming threshold control, range 0.0 -20.0V
Accepts a 0.0 – 20.0V analog input. Resolution is 4.88mV (10-Bit)
Switchable 4k7 ohm pull-up resistors on all 8 channels to 10V
2x Knock Inputs with configurable Frequency and Gain.
Using Bosch digital knock integrated circuit technology
Selectable center frequency from 500Hz – 25kHz
Selectable bandwidth from 100Hz – 5kHz
Selectable digital filter window; Hamming or Blackman
1x Dedicated Ignition Switch Input
0 – 20.0V input used for EFI Relay Control. (With input > 4V the EFI Relay output (D9) will switch ON)
2x Crank Index and Sync Engine Decoding Inputs
Magnetic and Hall effect sensor compatible with programable trigger edge(s)
"True" zero crossing detection on magnetic signals for precise engine position decoding.
Programmable independent arming threshold control from 0.1V to 12.0V
Switchable 4k7 ohm pull-up resistor to 5V
OEM patterns supported
1x ECU Supply Input
15.0A Max (pin limited)
6V – 22.0V Range
Supplies ECU power
Supplies power to Auxiliary 1-8 High Side Drivers
1x Auxiliary 9-10 Supply Input
15.0A Max (pin limited)
Power supply for Auxiliary channels 9 -10.
1x 5.0V Sensor Supply
5.0V Vref1 output current 250mA
1x 8.0V Sensor Supply
2x ECU Main Grounds
1x Sensor 0V Reference
Analog Sensor 0V Reference with short to battery protection
1x high speed Ethernet 100Mbps
2x CAN 2.0B 1Mbps/ 6 Channels per node, total 128 messages.
Emtron's comprehensive Emtune tuning software is used to connect to the ECU.
Microsoft Windows 7 -10 compatible
Free licence
Memory requirements: 0.5GB RAM
ECU connection using Ethernet, IPV4 protocol
Tuning and data analysis
PC and ECU data logging
Live pause and data playback
Advanced tuning functions
Diagnostics
Oscilloscope display
Competition Systems - Jaguar XK6 EFI Distributor
Product Code: 120-119A

Availability: 2 - 3 Days
Price: $700.00
Ex Tax: $700.00
EFI retrofit distributor that is the perfect companion for our Heritage DCOE throttle bodies. Allows fully sequential ignition and injection control on Jaguar XKE engine as found in many models including the E-Type and XJ6.