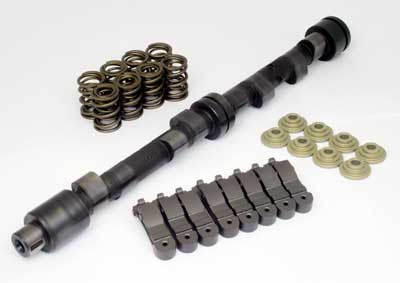 The venerable Ford Pinto engine is still apopular choice for classic cars and historic racing. Cat Cams has a big range of eleven different profiles to cover daily drivers through to top end competition engines.
Cat Cams is delighted to launch a brand new range of performance camshaft kits designed for the popular SOHC Ford Pinto engine, in capacities from 1.3 to 2.0-litres. Cat Cam's new Pinto kits are comprehensive, including Balinit C® coated cam followers and NASCAR quality PAC valve springs (where required.)
Although the Pinto engine design dates back to the 1960's, through the application of 21stcentury cam design techniques and state of the art coatings technology, Cat Cams is confident that its new cam kit range can deliver an unrivalled spread of torque, combined with excellent top end power and superb reliability.
Eleven profiles are available, from a mild fast road grind to all out race cams, sharing the same design principles of high lift and short duration that have been successfully proven throughout motorsport, including the BTCC, European Rallycross and Moto GP. Forced induction fans will also be pleased to hear that a bespoke Pinto turbo profile is also part of the new range, running a bespoke exhaust profile to help ensure rapid turbo spool up.
Each Cat Cam Pinto profile is CNC ground from a high quality chilled cast iron blank to ensure accuracy and consistency. Similarly, the design of Cat's Pinto cam follower is true to the original Ford blueprints, enabling Cat Cams to produce new followers that are checked on a computer controlled coordinate measuring machine to ensure the valve geometry is correct.
Crucially Cat Cams has overcome the traditional Pinto cam wear problem thanks to the application of a state of the art Oerlikon Balzer Balinit C® friction reducing coating (see attached graph) to the cam followers supplied with the kit. Balinit C's® anti scuff properties mean that even Pinto engines running full race cams simply don't wear out – this was proven in British short oval racing in 2008.
Due to the efficiency variations of inlet and exhaust systems Cat Cam's policy is not to quote performance gains, but increases of 8-10% in power and torque are typical for 'drop in' fast road profiles, with much higher gains from the motorsport specific grinds which require other modifications to ensure compatibility.
Cat Cams Pinto cam kits also include a Truelock alloy cam pulley. Cat Cam's True Lock adjustable cam pulleys offer a number of advantages over the traditional 'vernier' style items offered by rival companies. Primarily they are vastly more user friendly and accurate than traditional vernier pulleys. That's because while rival designs rely on a sliding vernier scale to indicate how much cam advance or retard has been dialled in, the True Lock pulleys use a unique, fool proof and considerably easier 'pin and hole' system.
The system is simple in operation – the face of the True Lock pulley features a series of drilled holes representing one degree of cam advance or retard. Users simply have to undo the securing bolts, then rotate the two parts of the pulley until the supplied alignment pin slides into the desired hole. The pulley is then bolted back together, the locking pin is removed and the user can be confident that the cam timing is set accurately, without the need to align hard to see vernier scales. And with plus or minus ten degrees of advance and retard available, there is plenty of scope for serious adjustment.
Ford Pinto Sport Camshaft Kit By Cat Cams (CAT2280300)
Product Code:
CAT2280300KIT
Dimensions:
50.00cm x 10.00cm x 10.00cm
All Cat Cams profiles are CNC ground from new hollow steel blanks. Cam followers are produced to super accurate design to ensure correct geometry at valve stem Unique Balinit C® coating on cam followers eliminates. Pinto cam wear problem by greatly reducing mechanical friction in key areas.
Cat Cam's Pinto cam kit includes:
Cat Cams camshaft
New Balinit C® coated cam followers
Make
Ford
Escort 2L
Ford
Cortina 2L
Ford
Pinto 2L
{eshopproduct 377