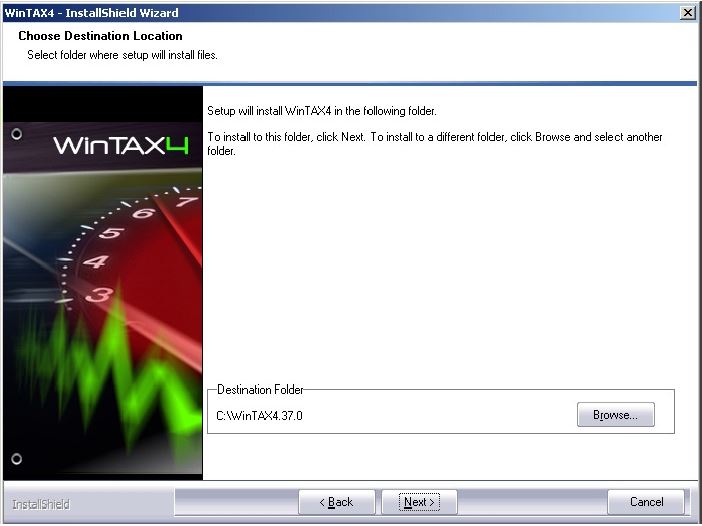 One of the most commonly asked questions we get. The answer is surprisingly easy and only has to be done once. A real "set and forget" solution.
Connecting Marelli hardware to a PC/laptop
All Magneti Marelli loggers and ECU's use a TCP/IP ethernet connection for downloading and mapping. This is the most reliable and widely available solution, even the smallest lap tops have an ethernet port, and provides fast data transfer speeds. It also allows us to identify which unit you are talking to, making multi car management very simple.
The trick to it is, neither the PC nor the logger/ECU has what we call a DHCP server in it. This module is normally present in your wireless router or internet access point and distributes the correct IP settings to each unit on the network. In this case, we have to tell your PC what those settings are going to be.
IP address PC / HW device
1. Open Windows standard Control Panel window.
2. Select Network Connections.
3. Select your ethernet-TCP/IP connection or create a new one if one doesnt exist.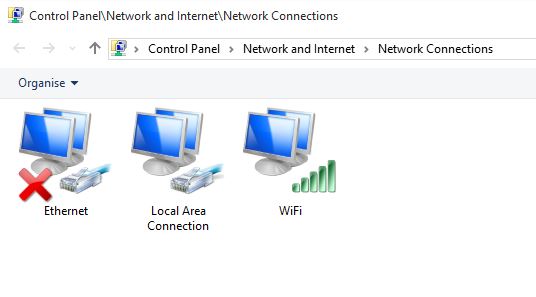 4. Open connection properties and edit Internet Protocol (TCP/IP) to set-up IP address and Subnet mask to values correspondent to HW device supplied.
In any Competition Systems supplied product these settings are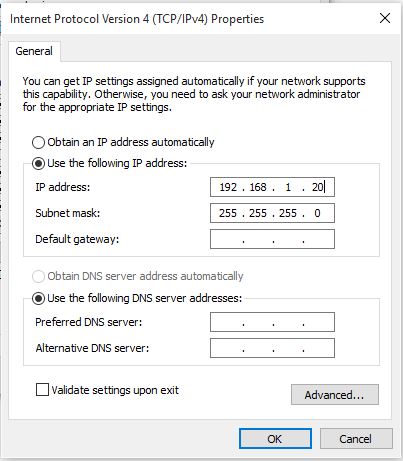 Units supplied by other vendors may differ and usually do. Contact us for more information.
Define ALIAS for Dataloggers in AXON
In order to transmit a table to a datalogger, user has to previously assign a name (ALIAS) to the device (i.e.: driver name or race number).
This operation is very important, because it allows the system to recognize each HW device by the name that was assigned to the device itself.
1. Run Axon.
2. From the main menu choose command Network/Network Properties, and select the page Tcp/Ip in the window Network Options.
3. Press button Add for adding a new ALIAS item.
4. Enter the name in the list Alias and confirm modifications with OK button. You can use various identifying factors like a chassis number or car type/model (e.g. F458GT3-3278 would be a 458 GT3 chassis number 3278)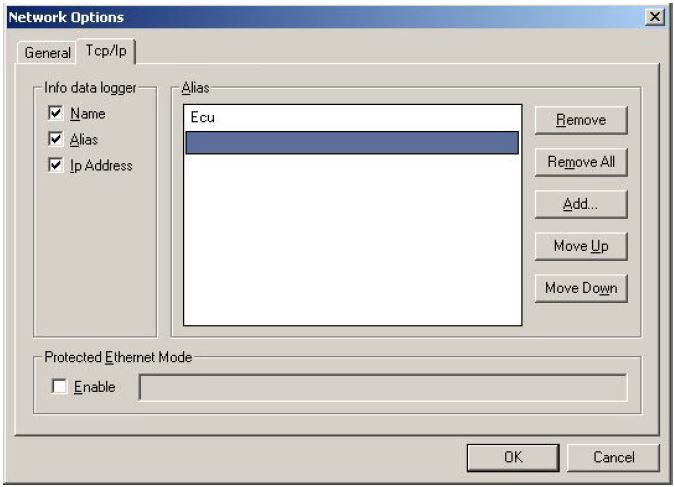 Defining a new car in Wintax 4
1. Connecto to your car using the download cable and open the Acquisition manager from Acquisition/Acquisition Manager. You'll get a window pop up that looks like this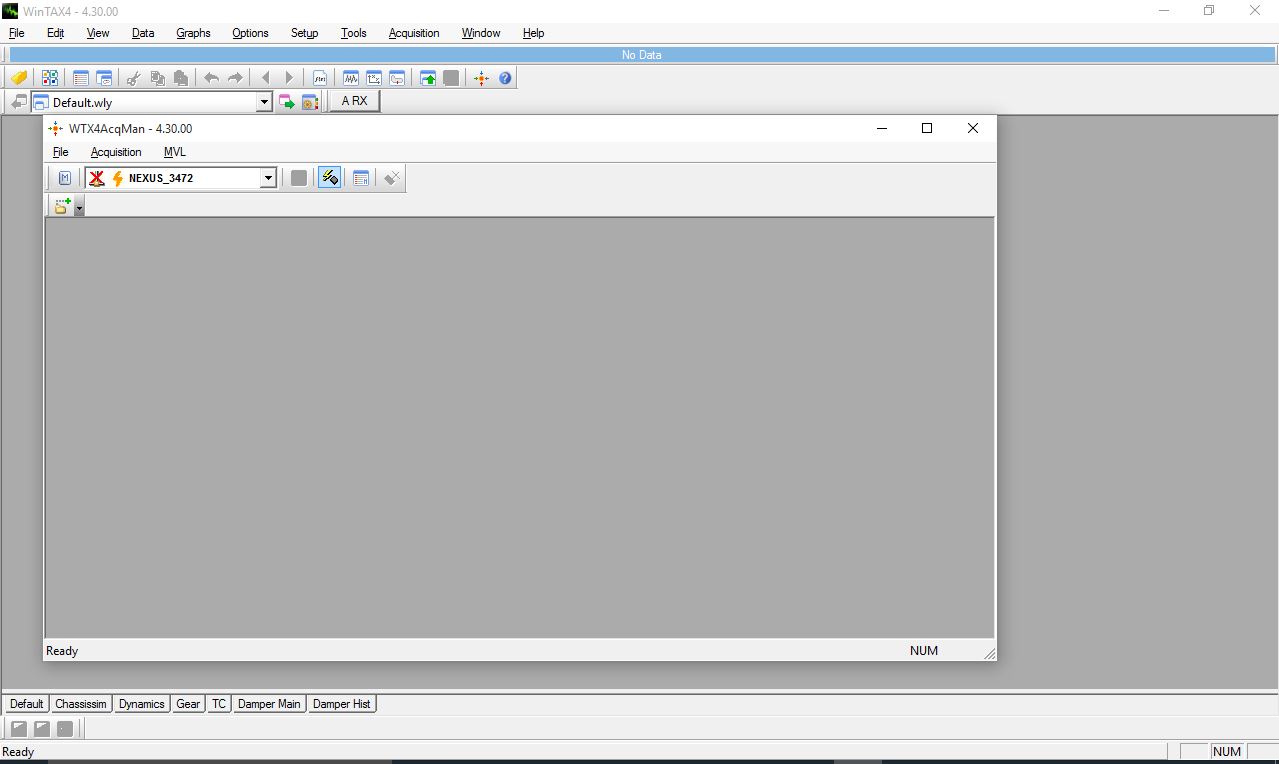 2. Then open the setup window by Acquisition/Setup, you'll then see a window that looks like this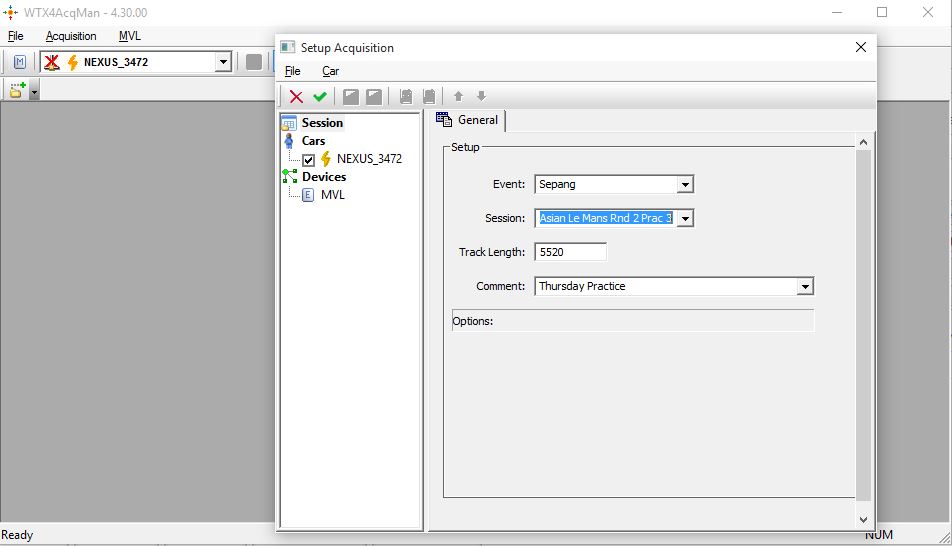 3. Click on "Car" in the left hand column and then click Car/Add car fron the file menu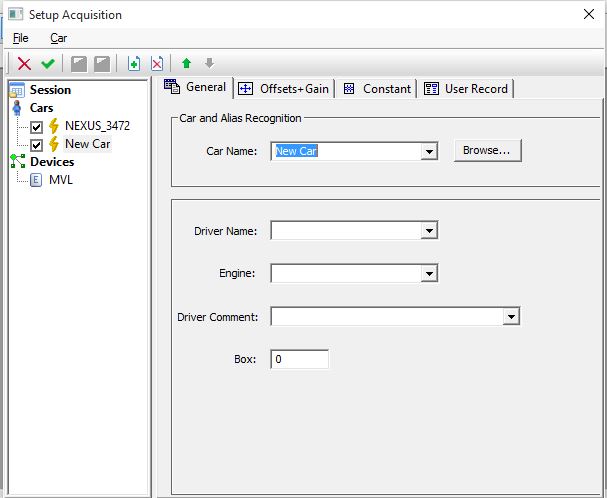 The browse button will show you the alias of the car you're connected to. Select this and it then becomes a new car in the list. You can also add Driver names an other comments here. This can also be edited later when downloading. Click the green tick in the top bar to confirm the selection.
Downloading your logger for the first time
1. This applies to any Marelli logger, even older models using TCP/IP communications, as well as engine control units with data logging isntalled.
2. Open the Acquisition Manager as outlined earlier. The drop down box contains a list of your logger devices or cars. Select the one that you want to download from.
3. Select Acquisition/Setup and change your even and driver details as required. When Wintax downloads, it automatically uses this to create the file structure.
4. Select the "Auto Download Marvel" button if you want the Acquisition Manager to download all data automatically. This will only download data your laptop hasn't downloaded before. This is by far the easiest way as the Manager deals with selecting the required laps.
5. Alternatively you can select the laps you want with the "Request Laps From Data Logger Marvel" button. This will display a list of all logged laps in your logger. You can then select what you want and download only that.
6. Select the "Activate Marvel" button on the left of the drop down box. If your connection is good, the button will turn green and a progress bar will start at the bottom fo the window. If their is a connection fault, it will stay red.
7. Your data is now downloaded to C:Wintax4/Data. You can view this by going back to the main window and using file "Open Data Browser".