Magneti Marelli DDU210 Display Unit
Dimensions:
25.00cm x 20.00cm x 10.00cm
The DDU 210 is equipped with a comprehensive range of analogue and digital inputs and ten-page liquid crystal display with configurable windows for an easily configured and personalised screen layout. The graphical bar indicator is typically used for representing engine revs.
As part of the Magneti Marelli data acquisition and telemetry system, the DDU 210 can communicate over a CAN network with a range of data loggers receiving and displaying data from the logger as well functioning as an additional input module.
It is also available a version (DDU 310-DL64/128) with internal data logger (64 or 128 Mbyte).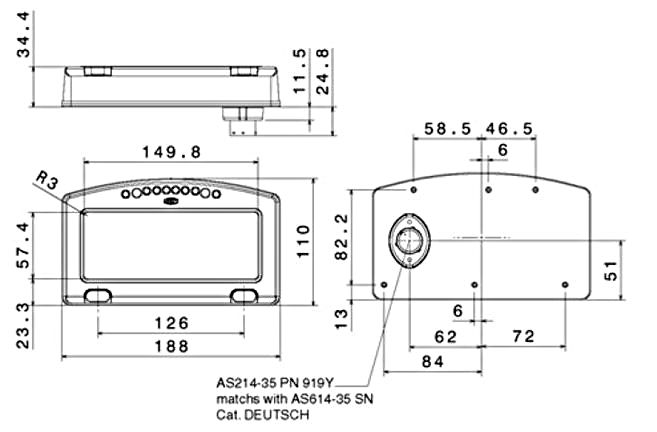 5 Single-ended
1 Pick-ups or Hall effect
3 Hall effect
2-axis internal accelerometer, ± 10 g
Page and channel name labels
Transmit internal diagnostic over CAN bus
48 alarm channels with programmable thresholds
Display dedicated to 48 internal channels
Lap time message displayed on dedicated page
PC interface via Ethernet for loading graphical layout
Easy to use and configure by Axon tool
Designed for rugged applications
TFT 6.2" transflective dot matrix color display
240 x 640 pixel resolution
Graphical engine revolution counter with configurable nonlinear scale
Alarm condition displays channel name and value (with priorities for multiple alarms)
Backlight regulation (8 steps)
Inputs configurable to suit all sensors in the product range
2 push-button on the front panel for page selection, alarm level set, rpm/speed conversions, message hold time
6 high-brightness warning lights yellow/red for gear change
(with programmable threshold) and 2 blue for general alarm condition indication
2 outputs for external warning lamps with short-circuit protections
Floating point data management
Inputs
Single-ended ................................................................ 5
NTC/PT1000 temperature sensor ................................ 2
NTC internal temperature sensor ................................ 1
2-axis internal accelerometer (± 10 g) ......................... 1
VR Pick-ups or Hall effect (RPM)................................. 1
Hall effect (wheel speed) ............................................. 3
On/Off digital (page scroll and confirm) ....................... 2
Lap Trigger ................................................................... 2
"Code Load" enable pin ............................................... 1
Outputs
Voltage references (@ 5 V) ......................................... 1
Low-side (@ 12 V) ....................................................... 2
Shift Lamp (adjustable brightness) .............................. 6
Alarm (adjustable brightness) ...................................... 2
Communications
CAN line (1 Mbit/s (*)) .................................................. 2
Ethernet line (10/100base T) ....................................... 1
RS232 .......................................................................... 1
(*) Configurable on request
Logic Core
Microcontroller A (80 MIPS RISC) ............................... 1
Microcontroller B (64 MIPS RISC) ............................... 1
FPGA (50k gates) ........................................................ 1
Graphic display controller ............................................ 1
DPR ........................................................................... 32 Kbyte
Flash E2PROM (microcontroller A).............................. 1 Mbyte
RAM memory (microcontroller A)............................... 48 Kbyte
Flash memory (microcontroller B) ............................ 512 Kbyte
Ram memory (microcontroller B) ................................. 4 Kbyte
Flash NV Ram ............................................................ 32 Mbyte
RAM memory ........................................................... 512 Kbyte
E2PROM .................................................................... 32 Kbyte
Time keeper ................................................................. 1
Other Characteristics
Power supply .................................................... 10 to 18 V
Operating internal temperature ........................... 0 to 60 °C
Protection class ...................................................... IP 65
Transflective dot matrix color display ............... TFT 6.2"
Dimensions
without connector ..........................188 x 110 x 34.4 mm
with connector ...............................188 x 110 x 59.2 mm
Weight (approx.) ...................................................... 580 g